Being a mom there are so many products that we need to research and find the best and safest options for our kiddos. Of all of these products, which do you think is the most important? Mine would be their car seat. The car seat that you pick for your new baby, your infant, toddler or young child should be the best product for your family, and without a doubt no safety concerns. With Madison we had the Graco SnugRide 30 infant car seat and then when she was 11 months old we moved her up to the Graco MySize 65.
When we started looking for car seats for Colton, I knew it would be a Graco brand and we opted to go with the Graco SnugRide 35LX travel system. We chose this one because we wanted the stroller that came with it as well. When I got the chance to partner with Graco I knew that the Car Seat we needed to try was the newest version, the Graco 4Ever Extend2Fit.

This seat is perfect because it has all you would ever need in a car seat and you can get 10 years of use out of it, from 4lbs to 120lbs. This is a huge savings cost for many families that would normally have to buy at least 3 car seats for each vehicle.

Being a non-traditional car seat the 4Ever Extend2fit features 4 ways to use.
Rear Facing Car Seat –
You are able to use the rear facing position from 4-50lbs. The American Academy of Pediatricians (AAP) and National Highway Safety Administration (NHTSA) recommend that children ride rear facing until the age of 2 or until they reach the maximum rear-facing height or weight rating for their seat, and when forward-facing, children should use the built-in harness system for as long as possible until they reach the maximum forward-facing weight or height for their car seat.
To turn to the forward facing position the recommended in this car seat is 22-65lbs and 27-29″.
Highback Booster –
The highback booster can be used from 40-100lbs and 43-57″. What is nice about this highback booster is that it can be used to your preference with the 5 point harness or a seat belt.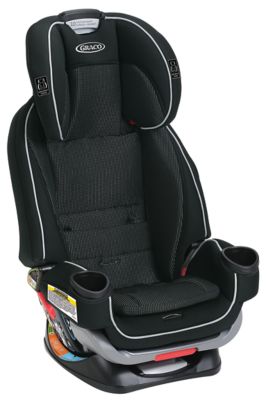 Photo from the Graco website
Backless Booster –
This position can be used from 40-120lbs and 43-57″.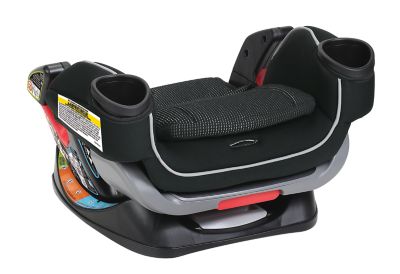 Photo from the Graco website
After reaching the maximum forward-facing weight and height, the AAP and NHTSA also recommend that children 4 feet 9 inches tall or under should ride in a belt-positioning booster seat.
Adjustments –
Kiddos are constantly growing which means their car seats are forever adjusting. From the straps to the recline, I feel like I am constantly switching things up with both kids, especially a fast growing 7 month old.
The Simply Safe Adjust Harness System headrest and harness adjusts together. It is as easy as pushing the red handle at the top of the seat and you slide the headrest up or down, to your perfect fit. Making sure your straps are the perfect tightness is also a easy adjustment, as you just push the button at the bottom of the seat and adjust accordingly.
6-Position recline to help your little one stay comfy.
The InRight™ LATCH system with one-second attachment makes installation easy, and is our preferred installation in our vehicles. The second option for installation would be with your seat belt. The easy-to-read level indicator helps eliminate rear-facing installation guesswork.
Some other key features to be pointed out –
The car seat cover is washable and easy to remove without removing the harness. This is a huge mom win in my book, especially with a daughter that seems to get more on her car seat than in her mouth having snacks on the go!
Speaking of snacks there are two integrated cup holders, which keeps your child's drinks or snacks close at hand… this is a kid win!
Integrated harness storage compartment holds unused harness straps while in the belt positioning booster mode.
Plush inserts keep your child comfortable, and they are easily removable if you do not want to use them.
I am very impressed with our new car seat and we will definitely be getting another one for my husband's vehicle. This is a go-to car seat for any family on a budget. It will for sure give you the peace of mind knowing that this will be the only car seat you will ever have to buy.
Xo,
Ashley
This post is sponsored by Graco. I received the Graco 4Ever Extend2Fit Car Seat at no cost in exchange for my honest review. As always the above opinions are 100% my own.